Erin and Marilisa's household recently threw a casual Christmas party in the midst of finals (I think everyone need a break). Cookie decorating was the main event of the party and I wanted to bring something to contribute. I considered baking sugar, but that seemed boring. So I decided on LEMON sugar cookies and used to tastespotting to look up a recipe. I stumbled upon
this blog
and got to work.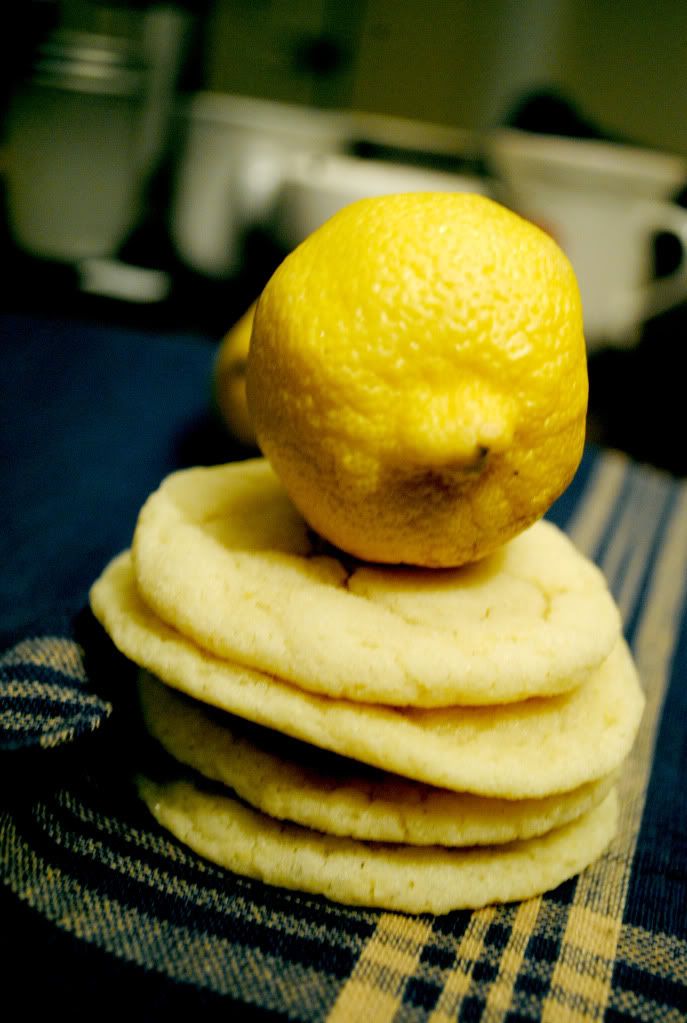 Lemon Sugar Cookies
Ingredients
2 3/4 cups all-purpose flour
1 teaspoon baking soda
1/2 teaspoon baking powder
1/2 teaspoon salt
1 cup butter, softened
1 1/2 cups white sugar
1 egg
1/2 teaspoon vanilla extract
Zest of one large lemon, finely minced
4 tbsp fresh lemon juice
1/2 cup sugar for rolling cookies
Directions
1. Preheat oven to 350 degrees. Line cookie sheets with parchment paper.
2. In a small bowl, stir together flour, baking soda, baking powder and salt. Set aside.
3. Using a mixer, beat together the butter and sugar until smooth and very fluffy.
4. Beat in egg, vanilla extract, lemon juice and lemon zest.
5. Gradually blend in the dry ingredients.
6. Roll rounded teaspoonfuls of dough into balls, and roll in sugar. Place on lined cookie sheets about 1 1/2 inches apart.
7. Bake 8 to 10 minutes in the preheated oven, or until lightly browned.
8. Let stand on cookie sheet two minutes before removing to cool on wire racks. (I somehow missed this direction so a few of mine broke in half)

Makes approximately 24-30 cookies depending on size
This cookie was perfect for the party and added a little punch to the classic sugar cookie. Enjoy!